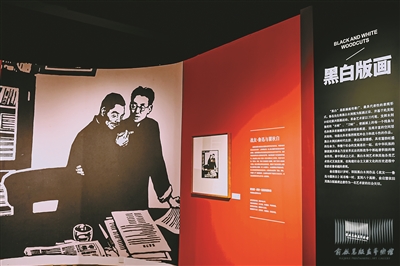 Yu Qihui woodblock painting art gallery. /俞启慧版画艺术馆。
  [Photo provided by China Port Museum]中国港口博物馆供图
  By Jin Lu
  A woodblock painting art gallery named after Yu Qihui, a renowned Chinese woodcut artist, was recently inaugurated in Beilun district, Ningbo.
  近日,宁波籍版画家俞启慧在亲人的陪伴下来到宁波北仑,为以自己名字命名的艺术馆揭幕。
  Born in 1934, Yu Qihui taught at the East China Campus of the Central Academy of Fine Arts, which is now known as the China Academy of Fine Arts, after graduating from the school in 1960.
  俞启慧出生于1934年,是新中国培养的第一代版画家和版画教育家。50年代中期入读中央美术学院华东分院(今中国美术学院)开始版画创作,1960年毕业并留校任教。
  His works have won numerous national and provincial art awards and are in the collections of the National Art Museum of China, the British Museum, the European Woodblock Print Foundation, the Ashmolean Museum of Oxford University, and Japan's Kanagawa Museum.
  其版画作品多次参加全国及省市美展并获奖,赴法、美、英、意、澳、日等数十国及港澳台展览,被中国美术馆、大英博物馆欧洲木版画基金会、牛津大学阿什莫林博物馆、日本神奈川博物馆以及国内多家博物馆、美术馆收藏。
  Since 1994, Yu has lectured in cities including Paris, Campbell, London, and Los Angeles, making outstanding contributions to the promotion of Chinese culture.
  1994年起,俞启慧先后在巴黎、坎贝尔、伦敦、爱尔兰、洛杉矶等地讲学,为传播和弘扬中国版画文化做出了杰出贡献。
  "My hometown is where my roots are. It is also the source of inspiration for my wood carvings," said Yu Qihui while attending the art gallery's inauguration ceremony.
  "我的祖先世居在北仑大碶的旗杆屋俞家,老家不仅是我祖辈繁衍生息的'根'之所在,也是我木刻创作重要的生活之'源'。"俞启慧先生在开馆仪式上说。
  To date, Yu has donated more than 400 woodblock paintings to Beilun. The new gallery is open to the public every day except Mondays, free of charge.
  俞启慧先生心系桑梓,近年来向家乡捐赠了400余件版画作品。俞启慧版画艺术馆免费向公众开放(周一闭馆)。