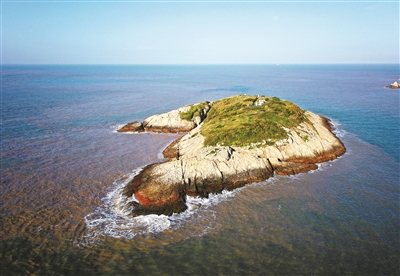 Jiushan Islands. /韭山列岛。[Photo by Yang Zhonghua]杨忠华摄
  By Gou Wen
  Located in the East Sea, the Jiushan Islands are 18.5 kilometers away from Changzuitou. The main protected species here are large yellow croaker, finless porpoise, and various seabirds, who form a harmonious and balanced marine reef ecosystem.
  韭山列岛是东海上的一座岛屿,与大陆最近点长嘴头相距18.5公里,这里的主要保护对象有大黄鱼、江豚以及各种海鸟,这些物种通过保护形成一个和谐平衡的海洋岛礁生态系统。
  Jiushan is also home to Chinese crested terns. Not long ago, they returned from south, and the researchers on the island spotted the "legendary bird" again. As the most rare bird in China, the Chinese crested tern is listed in the Red List of Threatened Species by the International Union for Conservation of Nature. At present, the global population of this bird is no more than 150.
  这里也是中华凤头燕鸥的家。前不久,南下越冬的中华凤头燕鸥返回,岛上的科研人员又看到了"神话之鸟"。作为中国最珍稀鸟类,中华凤头燕鸥被列入世界自然保护联盟濒危物种红色名录,目前全球种群数量不超过150只。
  In order to retain the "legendary bird", Zhejiang launched a project to attract Chinese crested terns. At least 110 Chinese crested terns have been hatched in the Xiangshan Jiushan Islands National Nature Reserve, accounting for nearly 80% globally and making it the largest breeding site of Chinese crested terns in the world.
  为留住"神话之鸟",浙江启动中华凤头燕鸥繁殖种群招引和恢复项目,象山韭山列岛国家级自然保护区已孵化至少110只中华凤头燕鸥,占世界各繁殖地总量近八成,是世界上最大中华凤头燕鸥孵化繁殖地。