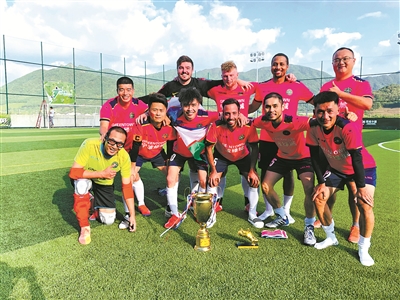 At this year's Tokyo Olympics, five Ningbo athletes won gold medals.
  Arthur, a French expat who lives in Ningbo, is a sports enthusiast. He watched videos of the Ningbo athletes' winning moments, which went viral on social media.
  He calls Yang Qian's win "epic", as she won the first gold medal for China at the Olympics. "It was nice to see the celebrations they held in her hometown. She really helped put Ningbo on the map for people around the world!"
  As a sports-lover, he appreciates seeing new sports facilities crop up around the city. "Back in my first years in Ningbo, I had to drive a long way to get to football pitches or gymnasiums, but now they're getting closer to where I live. I also enjoy the frequent athletic competitions and events held around the city. Whether it is football, rugby, or cycling, you can easily find a way to participate and compete."
  Arthur has been in Ningbo for over eight years, during which time the local sports community has supplied him with a lot of positivity. "During and after games, you can see players from all over the world helping each other out, respecting each other, and sharing their love for the same sport. I encourage more local people to try out rugby with us!"
  In Arthur's view, to further improve Ningbo's athletics environment, there is a need to maintain the new infrastructure more regularly after they are built. He also hopes that more sporting competitions in Ningbo could accept foreign players.
  "After so many years of living in Ningbo, I consider Ningbo my second home even though I cannot speak the local dialect yet. I wish Ningbo athletes the best of luck and hope they will put their best foot forward and make our city and China proud," he said.