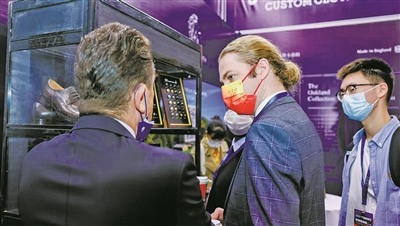 Do you know that one in every eight batteries in the world comes from Ningbo, and one in every three Android phones has an optical lens made in Ningbo?
  "It is not a surprise that Ningbo has the largest number of manufacturing champion companies in China," said Erdem Ozturk, a Turkish entrepreneur in Ningbo and one of Ningbo's Overseas Communication Officers.
  In Erdem's opinion, Ningbo is the epitome of modern China. "Comparing Ningbo today with what it had been when I first arrived, it is apparent how rapidly the business sector has grown and how significantly job opportunities have increased."
  Manufacturing is one of Ningbo's strongest suits. The city is one of the only five Chinese cities with independent planning status and its GDP recently surpassed the 1-trillion-yuan mark. Ningbo's major progress in the last few years is clear for all to see. The "Made in Ningbo" label is now the city's calling card on the world stage.
  Ningbo is expanding its global influence at the same time that it is growing its economy. "My goal is to strengthen the partnership between Ningbo and Belt and Road countries, expand Ningbo's international footprint in commerce and culture, and help the city become more globally-oriented." Currently, Erdem is actively facilitating contact between Ningbo and his hometown, Bursa, Turkey, with the aim of forming sister-city relations between the two. "As part of our 2022 plan, we will organize a virtual conference where the two city's largest manufacturing enterprises could exchange ideas, build partnerships, and learn from each other," Erdem said.
  "Entrepreneurs from Ningbo have contributed enormously to China's economic development and made generous donations to Chinese society when called upon." Erdem considers Ningbo to be one of the best places in the world to start a business, due to its friendly business environment, its community of kind and reliable citizens, and its eagerness to share experience and wisdom.